Dush Ramachandran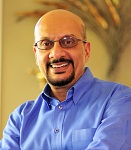 Dush is President and CEO of The Net Momentum Corporation. He is also the voice and inspiration behind the Affiliate Attraction Formula, The Net Momentum's comprehensive training program for beginner to intermediate marketers who want to develop a sustainable, cash-generating sales channel through affiliates.

Dush is a serial entrepreneur, having engineered the management buyout of a subsidiary of a Fortune 500 company and running that company for several years, and later founding, growing and selling two other companies.

Most recently Dush served as Vice President of Sales and Business Development at ClickBank where he was responsible for growing the revenues of the company substantially in under 6 years. During Dush's tenure at ClickBank, the company surpassed $2 billion in affiliate and vendor payouts, and during is last 3 years with the company, payouts doubled from $1 billion to $2 billion.

Dush holds a BS in Physics from St. Joseph's College, Bangalore University, and an MBA from the prestigious Indian Institute of Management. He is also a proud member of Maverick1000, an exclusive entrepreneurial group founded by Yanik Silver, which focuses on helping busy entrepreneurs have more fun, make more money, and have a bigger impact on the world..